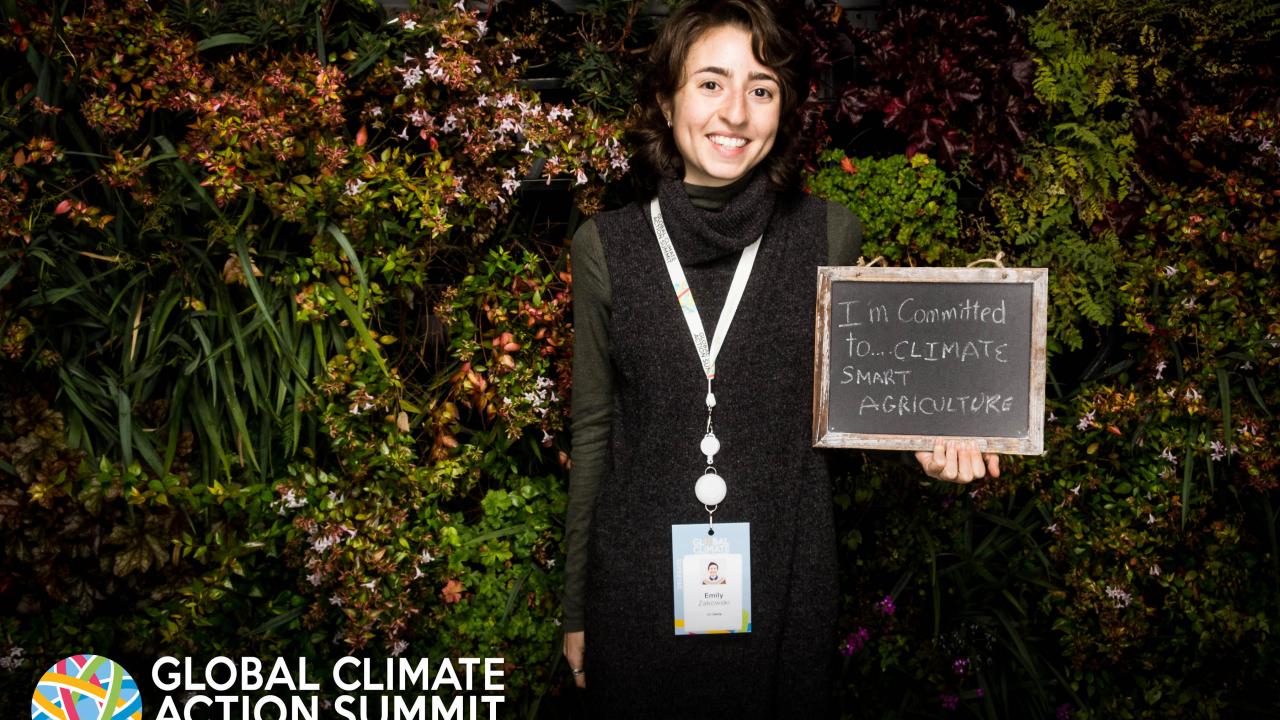 In mid-September, the Global Climate Action Summit took place in San Francisco, CA, originally home to the Ohlone people. Several speakers at the Summit and its affiliate events, including CA Senator Ben Allen, recognized and honored the land on which I, along with climate leaders from around the world, gathered for the week to discuss and make commitments to climate change solutions.
Indigenous people and other marginalized groups were not only recognized at the Summit, but their voices were amplified in the urgent call for climate action. Several discussions throughout the week emphasized the importance of inclusion: indigenous people, women, and people of color are all vital leaders and participants in conversations regarding climate action in their home regions. 
Discussions throughout the week emphasized the need for climate change mitigation, and not just adaptation. As a graduate student in Environmental Policy and Management, with a focused interest in agriculture, I was particularly motivated by a number of speakers who highlighted land-based solutions as the "forgotten climate solution." Restoration and conservation can promote climate-resilient landscapes, where grasslands and forests act as substantial carbon sinks - "locking up" carbon to decrease the amount in our atmosphere. Land management can be a cost-effective natural climate change solution, though it has not been well represented in climate policy. Through climate-smart agriculture, such as actions to promote soil health, growers and managers of agricultural lands can play a significant role in climate change mitigation.
I was lucky enough to speak with and hear from a number of remarkable climate leaders, including: Secretary Karen Ross (California Department of Agriculture), Jane Goodall, Ben Houlton (UC Davis' John Muir Institute of the Environment), farmers from around the world such as Fred Yoder (North American Climate Smart Agriculture Alliance, National Corn Growers Association), Ashley Conrad-Saydah (CalEPA), Mayor Eric Garcetti (Los Angeles), Winnie Byanyima (Oxfam International), Congresswoman Nancy Pelosi, Former Vice President Al Gore, a number of mayors and government officials from around the world, and many more dedicated and inspiring people.  
Witnessing this remarkably diverse delegation join in commitment to climate change was undeniably powerful, and highlights the importance of transdisciplinary collaboration in global climate action. Partnerships across traditional boundaries, between private, public, government, business, and non-profit organizations are crucial to increase the success of our collective efforts. 
Last week, I saw the strength and ability of a diverse group of people to unite for a greater cause. Moving forward, I will work hard to implement many of the climate solutions mentioned last week, and make sure our climate actions are visible to decision-makers. Every person has the ability to make a difference, each and every day.
As Jane Goodall articulated, "we can live without fossil fuels," but we can't live without clean water, breathable air, and healthy food. 
The Global Climate Action Summit provided a unique opportunity with a week full of discussing extraordinary climate commitments, including Governor Brown's commitment to 100% renewable and zero carbon energy for the state of California by 2045 (SB 100).
Now, it is time for us to act.
Thank you to Dr. Lloyd Knox, Austin Brown, and Taryn Akiyama for nominating me as a delegate and coordinating all the "Youth Delegates Under 30" at the Global Climate Action Summit.
Written by: Emily Zakowski