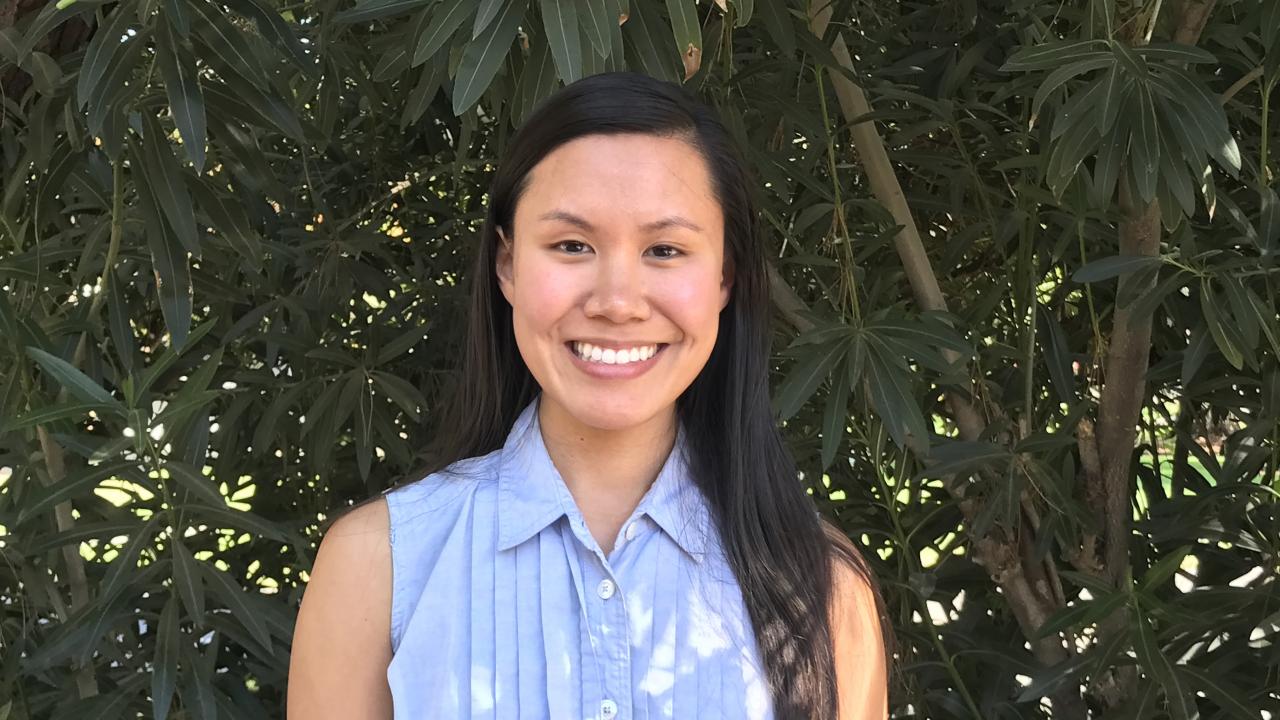 Student Spotlight
Tiffany Hoang
Tiffany Hoang is a student in the UC Davis M.S. Environmental Policy and Management Program, expected class of 2019, specializing in city in regional planning. She holds a B.S. in Biology: Ecology, Evolution & Behavior from the University of Texas and is interested in the intersection between built and natural systems and how cities can minimize harms to the environment while meeting demands. 
What was the most surprising thing you've learned or experienced to date at UCD, either at the university or in the city?
I was surprised by the numerous opportunities students have to work with faculty, engage with guest speakers and connect with professionals from diverse backgrounds. Through (regular) seminars we've met with environmental conflict mediators, researchers, a water policy lobbyist, an assembly member, policy advocates, a science and technology council member and state agency representatives. Coming in April, we get to meet the former Director of the National Park Service, Johnathan B. Jarvis. EPM faculty and staff actively encourage us to attend talks and symposiums around campus and do a great job of informing us of events and have gone the extra mile to personally connect us to professionals in our fields of interests. 
Are you planning to pursue a specialization? If so, which one and why? 
I plan to specialize in city and regional planning because it combines my interests in conservation and the natural environment, cities, community vitality, environmental justice and public health. I find the interface between natural and built systems fascinating and would like to facilitate a healthy balance between them. I am excited to explore how cities can plan for growth and meet community needs while minimizing harms to the environment.
Which course or campus experience have you found most impactful so far and why?
Being able to identify market failures in the environmental realm and evaluate policy instruments that attempt to correct failures through Fran Moore's and Mike Springborn's "Environmental Policy" class has been very impactful. For my final case study I explored economic incentives for urban storm water management and discovered the strengths and limitations of different policy instruments for controlling non-point source pollution. Because of this class I now have a better understanding of why certain methods (i.e. hedonic valuation, contingent valuation) and policy tools (i.e. cap-and-trade, taxes) are preferred over others, given peoples' preferences, behavior and trade-offs. 
What course or element of the program are you most looking forward to and why? 
I look forward to taking "Urban and Regional Planning" and "Transportation Policy and Planning" next quarter to learn about the tools that cities are using to manage population growth in an environmentally sensitive way.  I hope to complement my background in ecology with an understanding of city planning tools to explore how cities can better accommodate residents and plan for growth while minimizing environmental impacts. (The) program …gives students the flexibility to explore their interests through different subject areas while ensuring that we gain a basic understanding of environmental law, policy and management and some real-world practice through a required practicum and policy clinic. I believe that this will make us more versatile thinkers, able to communicate effectively across disciplines.
You can also see this spotlight on our Facebook page. Be sure to "like" our page to stay current on EPM news!