Environmental Policy & Management Policy Clinic Solicitations for January-June 2020
The UC Davis Master's degree program in EPM seeks partners for a synthetic, action-oriented, collaborative group project. Group projects will engage external partners to provide a knowledge synthesis, from a variety of disciplinary perspectives. Advanced students in the program will work with selected clients over six months to produce substantive and relevant work products, overseen by faculty at UCD. 
The EPM program has developed the Policy Clinic as an integral part of the curriculum to give students hands-on training and experience at solving real-world environmental problems. This helps prepare our students to develop the essential skills to solve multifaceted, multidisciplinary environmental issues before they enter the workforce. The Policy Clinic also gives the opportunity for external partners to build a working relationship with the EPM program. 
Projects ideally would match the interest of our students, have clear applications to applied policy or management issues, be six months in duration, include interdisciplinary projects of a synthetic nature and comprise of an emerging environmental issue.
If you are interested in suggesting a project for consideration, please contact the EPM Grad Coordinator, Jessica Penrose.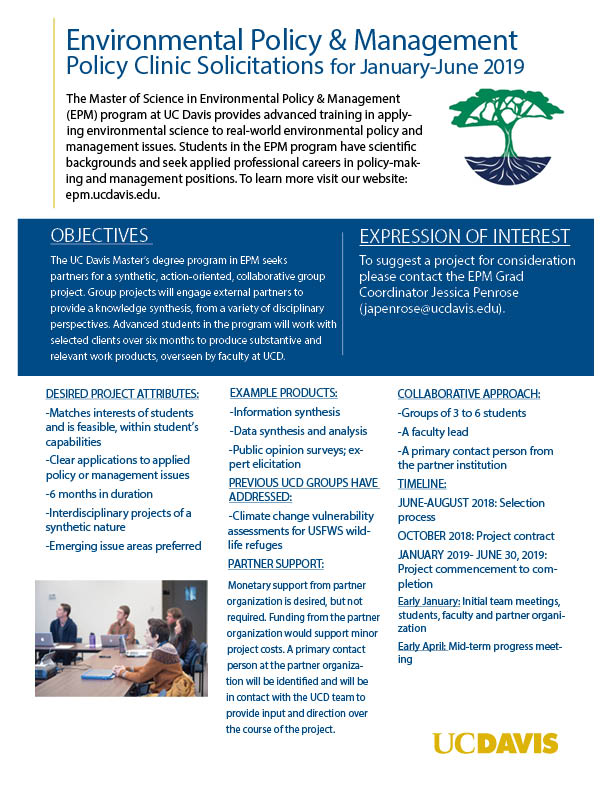 For further details, please see our Policy Clinic flyer.
---
Internships
All EPM students complete an internship as part of the master's program, either over the summer or part-time during the academic year. If you would like to share an internship opportunity with our students, please contact our Grad Coordinator, Jessica Penrose, to ask questions or share details on the position.