Student experiences "in the wild" working with environmental institutions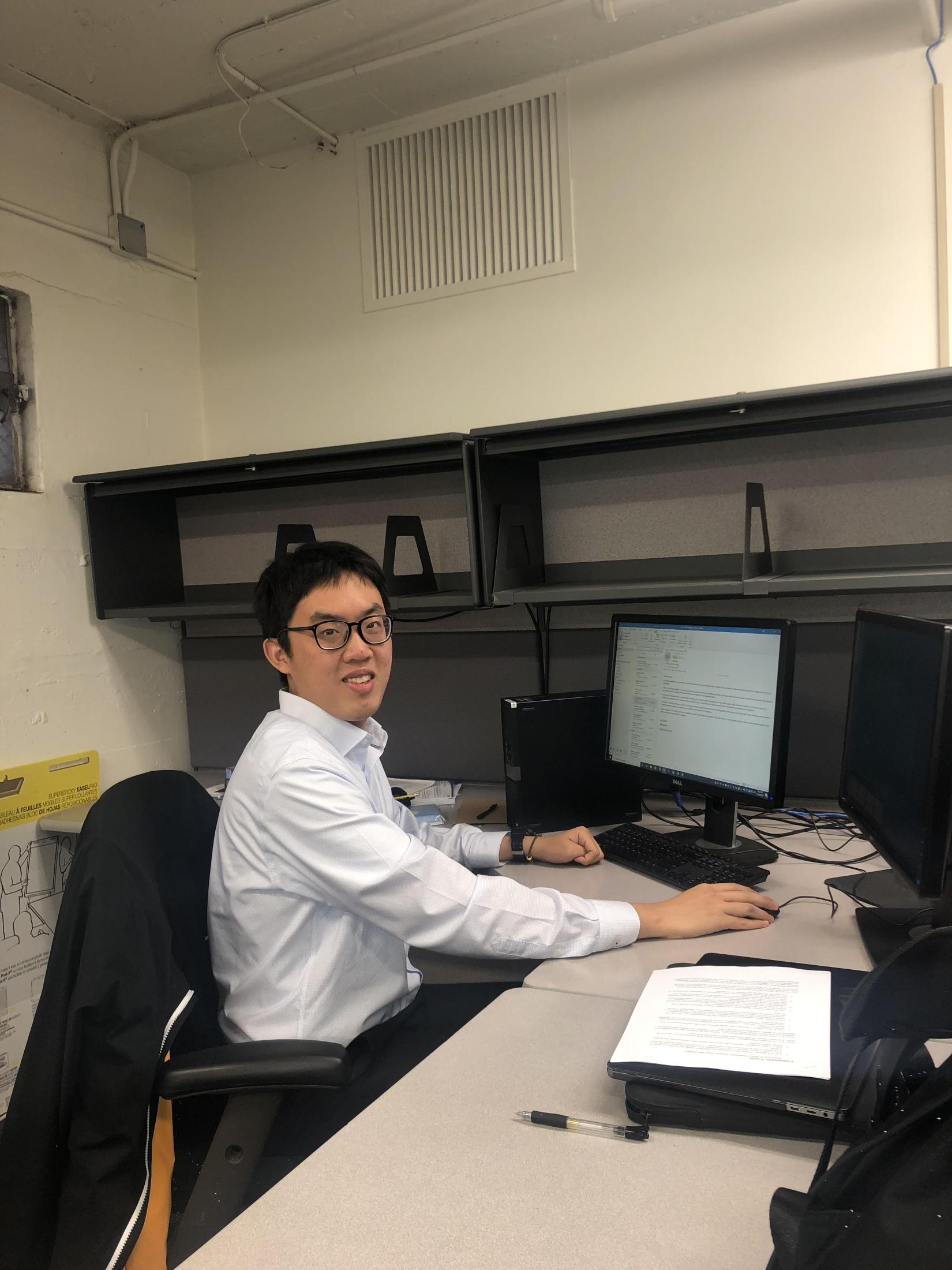 Yingqing Zhang (March 2020): I did my practicum at the California Governor's Office of Planning and Research (OPR). OPR was established as the comprehensive planning agency for the State. It is responsible for formulating long-range goals and policies, including land use, state and local planning, climate change, environmental justice, and other major policy issues in California.
My main deliverable for my practicum was to conduct an analytical report about the political and legislative analyses of existing displacement avoidance policies in the State of California, as affordable housing is currently one of the most predominant issues. My analytical report informs staff at OPR with background housing information of a selected city and possible policy impacts on the anti-displacement act to consider before they implement the climate change grant in different locations. I also got involved in the tracking of the implementation of diverse bills among various cities in the State of California, relating to climate change adaptation and the change of transportation measures under CEQA.
This internship experience offered me an excellent opportunity to enhance my understanding of the leading environmental and urban policy goals developed in California. I have learned a lot about how a lead agency, like OPR, tracks projects, and what types of preparations they need to do before they approve plans. And I am looking forward to putting all the policies management I learned at OPR into my future career.  
---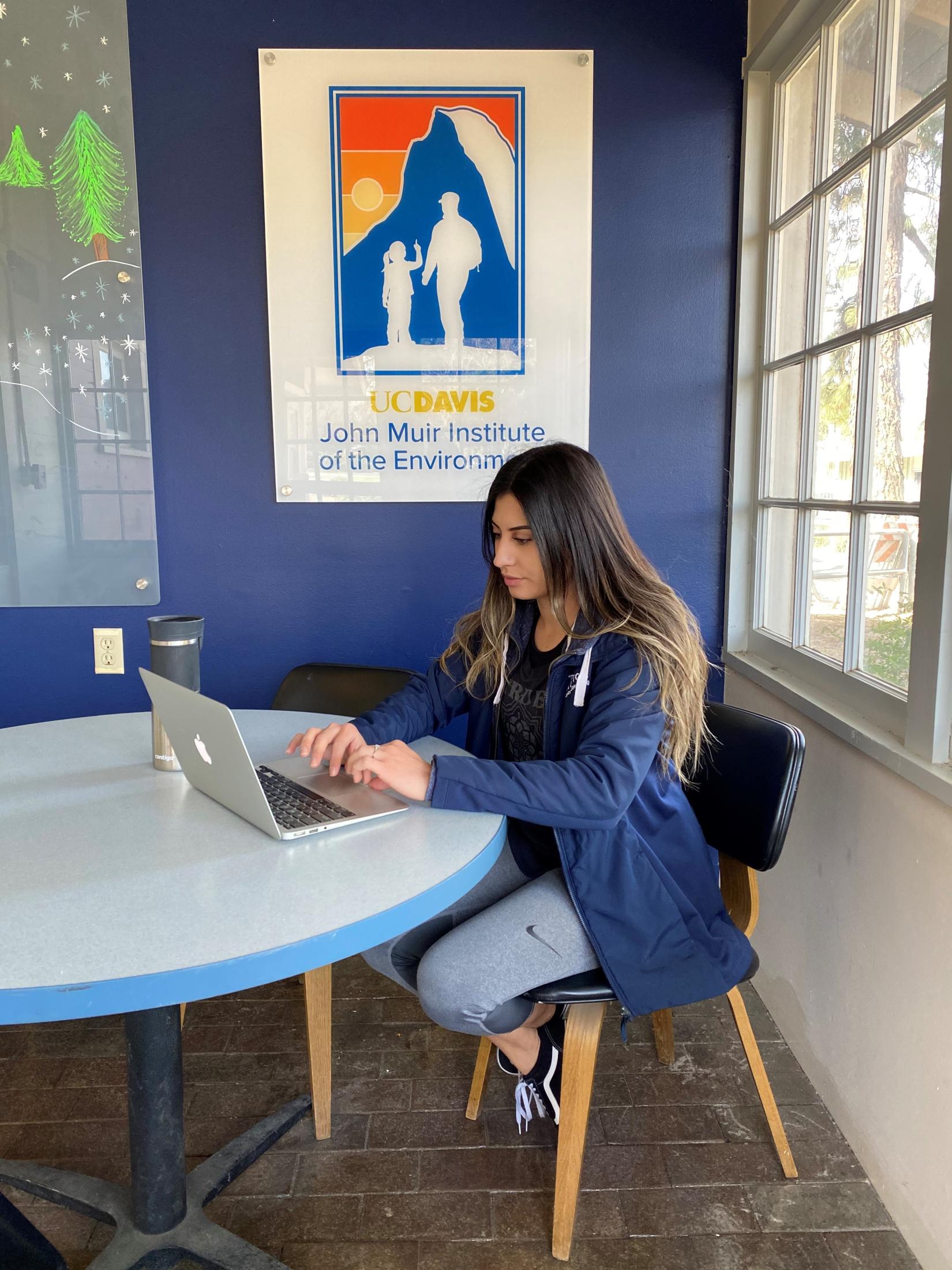 Edlyn Nunez (February 2020): My practicum deliverable is to create a formalized biological training index for internal personnel at Alluvion Biological Consulting. The manual will include information regarding common native and nonnative species throughout the state of California, habitat (including nest, burrow, and botanical identification), behavior, along with additional details on status, agencies involved with protection, established buffers, and how to safely handle or remove species from project zones. In addition, I will also conduct a comparative analysis on natural resource management across multiple agencies of government, consulting firms, and possibly within the company. I plan on synthesizing the results of conservation and mitigation plans on species throughout the state of California.
---
Practicum: Sarah Farnsworth at the California Fish and Wildlife's North Coast Kelp Lab at Bodega Marine Labs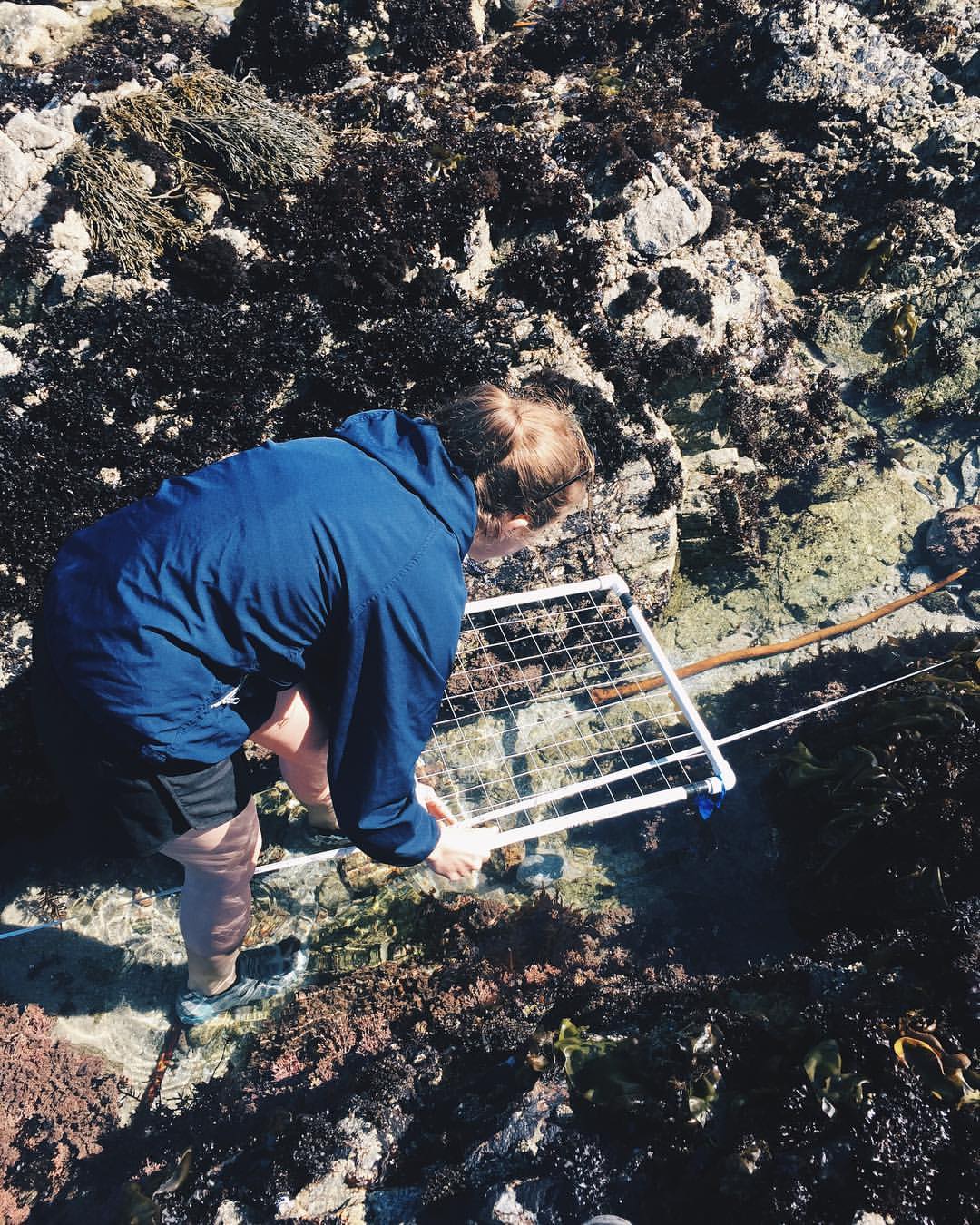 Sarah Farnsworth (February 2020): I am currently working as an intern with California Fish and Wildlife's North Coast Kelp Lab at Bodega Marine Labs. The role of macroalgae in storing carbon in these ecosystems has been studied in depth, however when a kelp stand is decimated by sea urchins and they become the dominant fauna in the system, there is a gap in knowledge of their role in storing carbon. The primary focus of my practicum is a scientific study to determine the role of purple sea urchins in north coast kelp forest carbon sequestration. I am using a large sample of sea urchins to determine the carbon content in their 'skeletons' and will use that information with the population data collected by CDFW previously to determine their role in carbon storage at the lab's major study sites on the north coast. Aside from this focused research project, I am also assisting the lab in collecting, organizing, and analyzing invertebrate fisheries data for urchins, abalone, and clams and plan to incorporate an element of outreach for all of the above information (videos, blog posts, briefs, etc.) in order to inform managers and the public of the current state of these important fisheries species and recommended actions.
---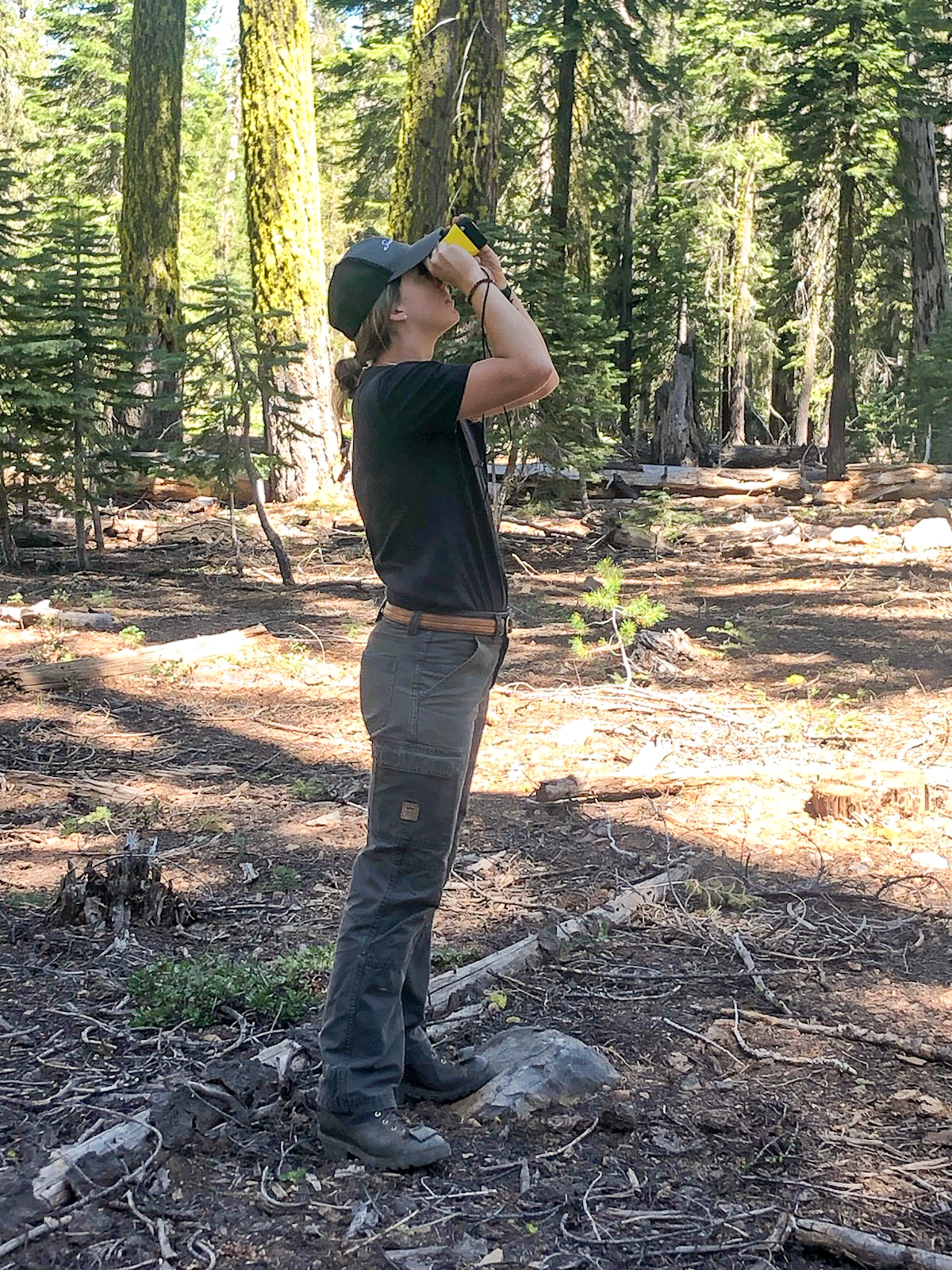 Danielle Berry (July 2019): I am conducting my practicum with the Sierra Institute for Community and the Environment. The Sierra Institute is a non-profit that promotes healthy forests, watersheds, and communities by investing in the well-being of rural communities and strengthening their participation in natural resource management. Their work is grounded by the concept of triple bottom line values, supporting initiatives that simultaneously benefit the environment, economy, and equity within a given landscape.
The Sierra Institute is partnering with the Lassen National Forest to pilot collaborative planning processes for forest and watershed restoration. This work is part of a 600,000- acre focal landscape of the South Lassen Watersheds Group whom focus on collaborative planning for the future of forest management, climate resilience, and economic development in critical upper watersheds of Northern California. This work is essential to improve the capacity for project planning and implementation that is necessary to accelerate the pace and scale of forest restoration in California.
As part of my practicum I will be analyzing and documenting the lessons learned from this innovative process. Sharing these lessons will enable the efficient widespread adoption of best practices for collaborative planning in forest and watershed restoration. In addition to this analysis, I am also involved to a variety of other duties such as: conducting Common Stand Exam surveys, planning and implementing public outreach efforts in accordance with NEPA scoping requirements, and planning of collaborative field meetings.
The Sierra Institute has provided me with an opportune practicum, allowing me to combine my passion for natural resource stewardship and community involvement. Every week offers a new and exciting challenge and I am eager to see what this amazing team can accomplish!
---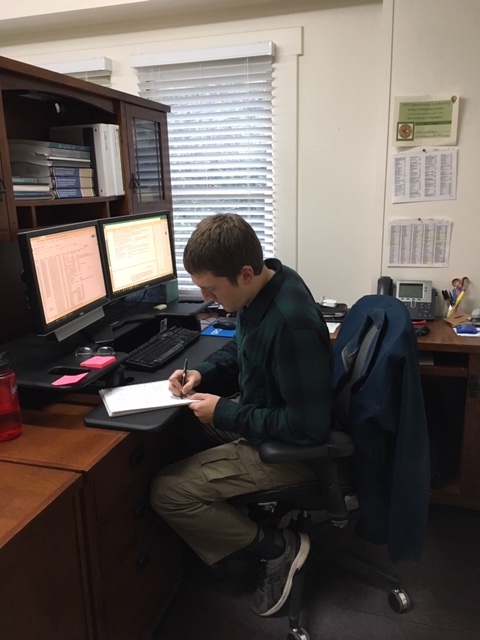 Nick Taylor (July 2019): [For my practicum project] I'm the Environmental Protection Assistant to the Chief of the Planning and Compliance Division in Sequoia-Kings Canyon National Parks. My job is to shepherd park projects through the National Environmental Policy Act (NEPA) process. I review and help develop proposals, monitor ongoing projects, and perform due diligence on completed programs.
Most of my day-to-day work revolves around environmental compliance. Take for example, an infrastructure project, such as a new campground sewage system that'll help us handle our increased visitation. I'm checking legislation to verify we are allowed to build it, coordinating with work crews and administrators to confirm we have the resources for it, and I'm gathering inputs from subject matter experts to determine if there are negative impacts that will result from the project.
I'm here to integrate all these considerations, to make things more coherent for the decision makers and stakeholders who receive my compliance packages. One of my favorite projects to be involved with this season has been a burn plan that uses cultural burning in collaboration with the local tribes to restore the fire regime in parts of the Sierra Nevada foothills.
---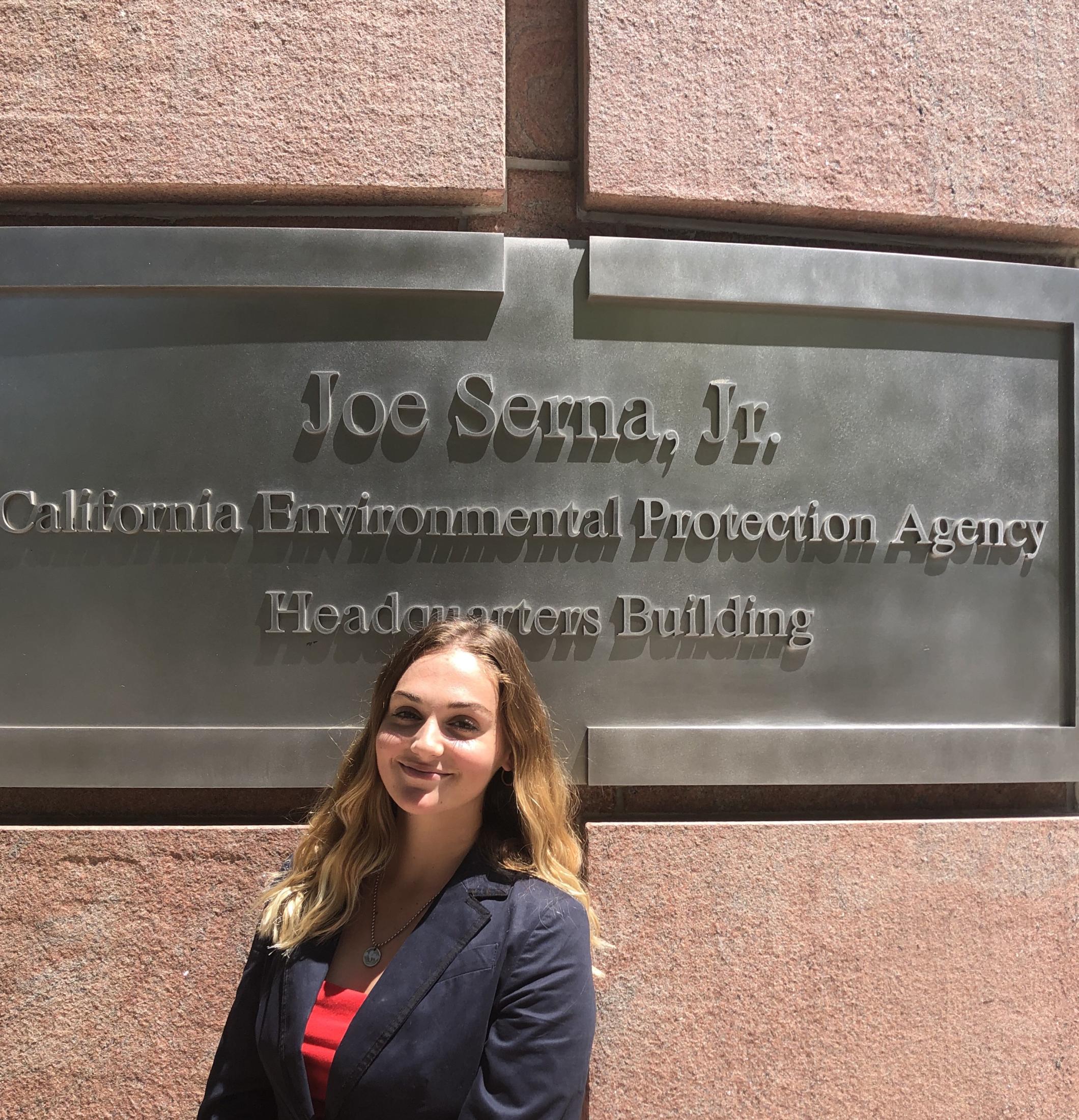 Kassidy Heckmann (July 2019): I landed my internship at the State Water Resources Control Board with the Division of Water Rights (DWR). Coming from the East Coast where water is plentiful, California water law has always fascinated me. I even wrote my senior capstone report on California water recycling! Upon entering the EPM program, I took Keith Casto's ENV 202. A crash course in all environmental policy, water rights were only briefly discussed. I was left wanting more! Luckily, in April 2019, DWR hired me as an intern of the Sacramento Valley Enforcement Unit. 
In my short time here, I can say this: California Water Rights are highly complex. In fact, my main task at first was just to familiarize myself with them. I reviewed legal files, databases, web content and more...just to wrap my head around the applicability of each water right to the entire California water policy landscape. Soon, I was able to move on to enforcement actions. These included site inspections at hydropower facilities, water right compliance investigations, public outreach, and tons of data analysis. Though I hope to steer my career towards climate policy, I have no doubt that the information learned through this internship will assist me with my future endeavors. As water availability continues to remain uncertain, water rights will be even more valuable for future integrated environmental management.
---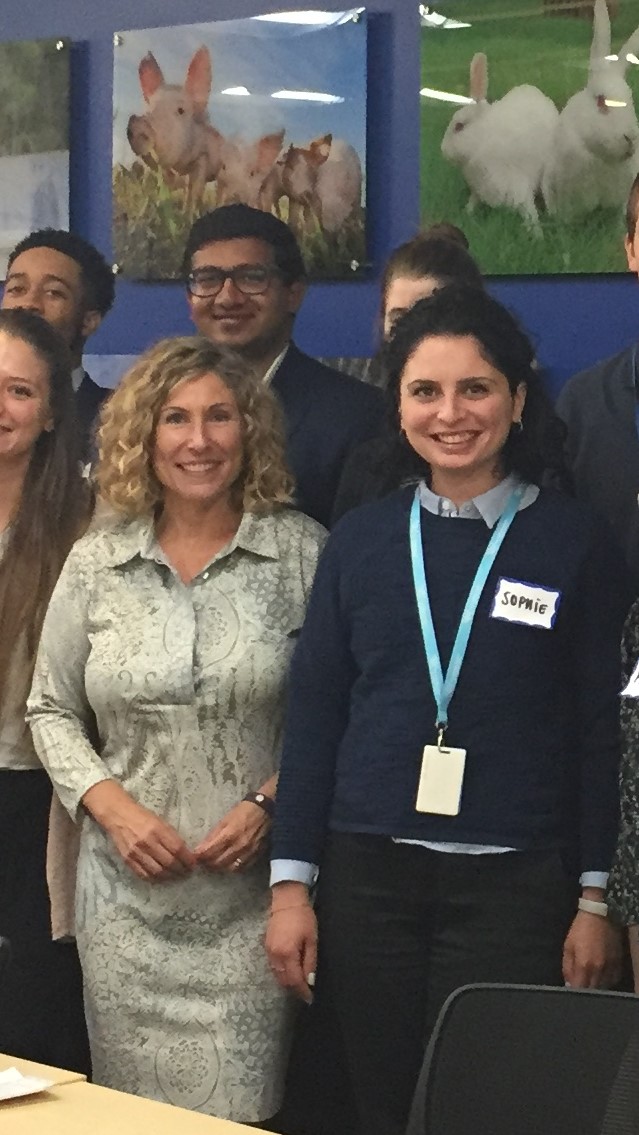 Sophie Nazeri (July 2019): I am interning with the Humane Society International in the Wildlife department. Through education and advocacy, the organization helps shape public opinion and legislation to advance animal welfare and end animal cruelty around the globe. I assist the Wildlife department on their big fights against wildlife crime such as trophy hunting, illegal wildlife trade and human-wildlife conflict. Through this, I have had hands on experience reviewing CITES proposals, applying the Open Standards framework and have participated in legislative hearings in Washington D.C. 
For my practicum, I am preparing an Endangered Species Act listing proposal. I conduct research on the natural history, biology, population trends and threats faced by the species of interest. I analyze trade data and national/ international laws and regulations to demonstrate the urgency and necessity of an ESA listing. If (and when!) this proposal is approved, it will restrict U.S. trade for the species' parts/trophies. This would relieve some pressure on its wild populations and help improve its conservation efforts. 
It is incredible to be integrated in such a powerful, proactive and committed organization that tackles so many pressing animal welfare issues. I am overjoyed to be here and to be helping advance animal welfare policies around the world!
---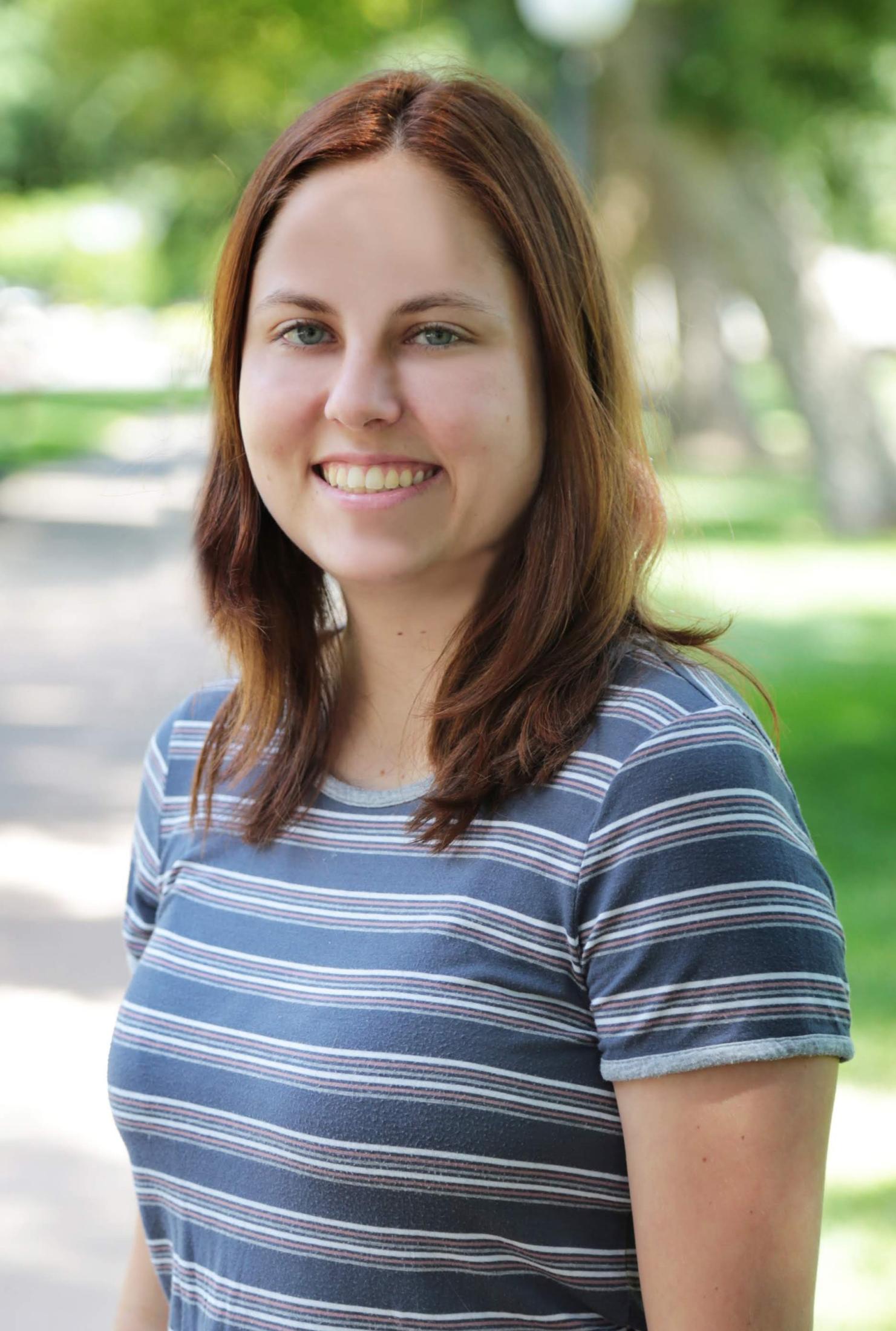 Kelsey Haydon (July 2019): This summer I am working as a Green Buildings Intern with UC Davis' Energy Conservation Office. ECO's mission is to determine ways to save energy at the building level in order to meet carbon neutrality goals and practice sustainable stewardship across UC Davis. We work on a variety of projects on campus, including LEED (Leadership in Energy and Environmental Design) and BREEAM (Building Research Establishment Environmental Assessment Method) certifications. My day-to-day work includes campus policy research, data collection and providing documentation on how campus buildings meet the sustainability requirements laid out by BREEAM and LEED. This involves analyzing energy and water usage, performing building walkthroughs to evaluate features, reviewing floorpans and utilizing campus databases to determine asset performance. Our current project is a BREEAM certification of the Barn, home to the John Muir Institute of the Environment. This will be an exciting project for me to work on as I am already familiar with this building. I look forward to deepening my understanding of its operations and finding areas where improvements can be made. The Green Buildings Team is currently in the early stages of the certification process and we hope to complete the Barn's BREEAM certification towards the end of summer.
---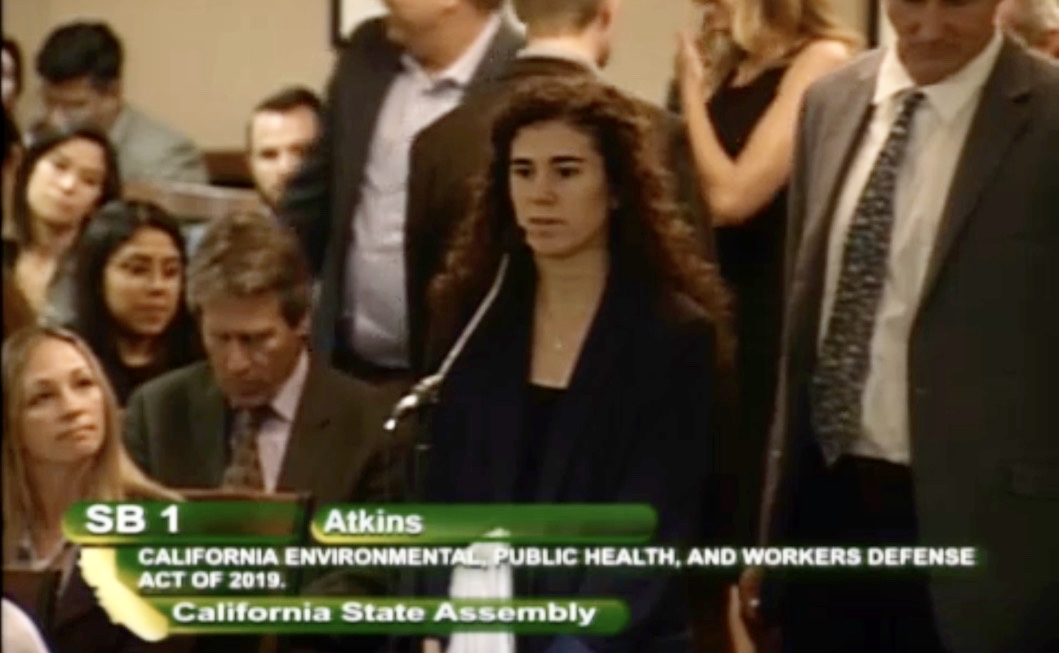 Keara Tuso: (July 2019) As a Marine Policy intern for Ecoconsult, I have seen a lot in these first few weeks! Ecoconsult is an environmental lobbying firm that represents the policy interests of a variety of organizations like Heal the Bay, Surfrider, NRDC, 5 Gyres, and several environmental health groups. I am working behind-the-scenes on the single-use plastics bills AB 1080 and SB 54, researching harmful algal blooms and kelp methane reductions, and attending committee hearings for both the California State Senate and Assembly. One of the most exciting parts of the job is having the opportunity to testify on important bills that pass through the legislature. Moving forward, I will be following the plastics bills closely, engaging coastal organizations, and helping promote policies/research that keep our oceans clean and healthy. 
---
Practicum: Jessica Parrish at the City of Sacramento Department of Utilities, Water Division
Jessica Parrish (July 2019): I work as a graduate student intern for the City of Sacramento, Department of Utilities (DOU) Water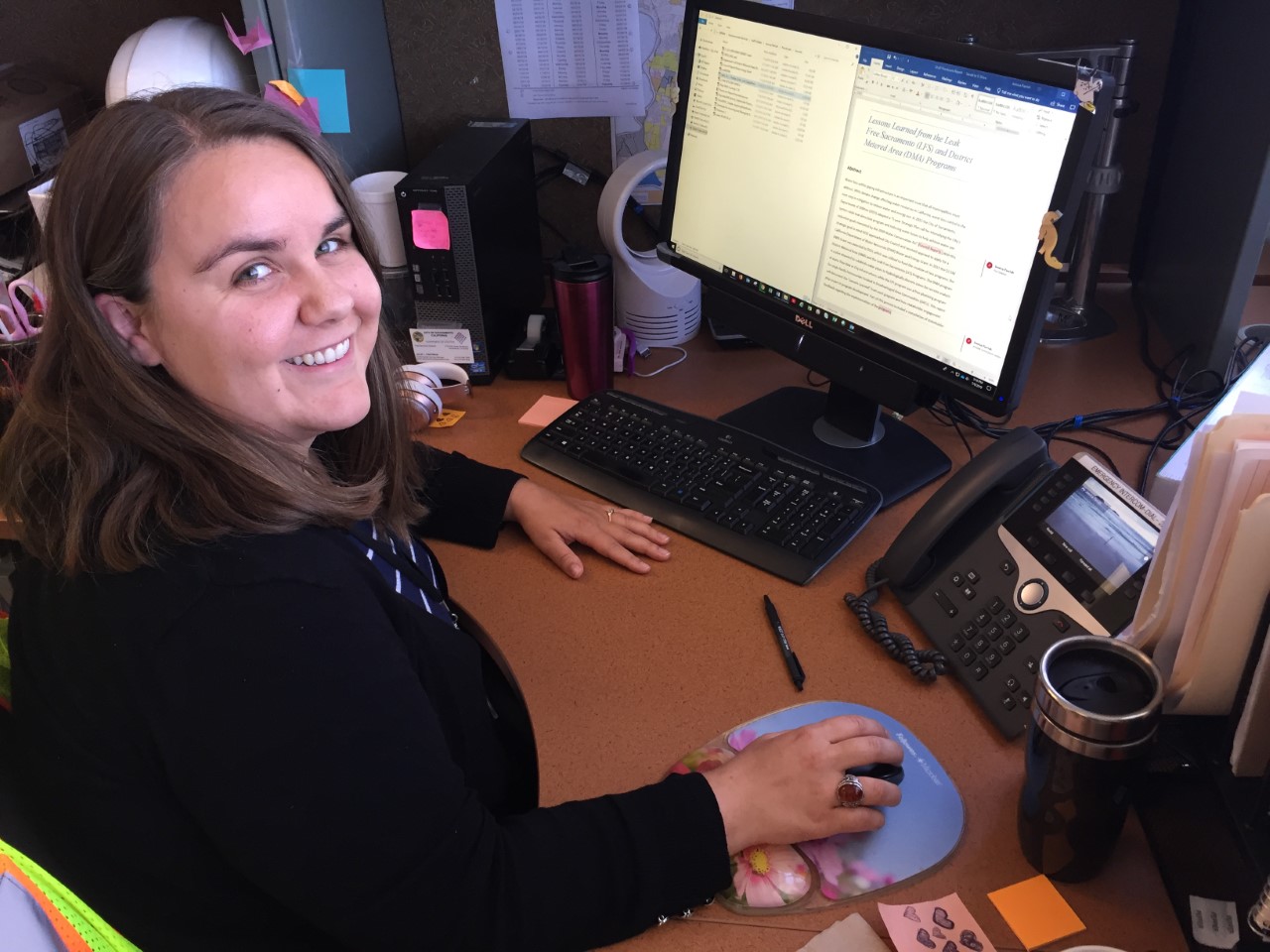 Division. I have worked for the City since 2015 as an undergraduate intern and a limited term City employee assisting the Environmental Services Manager in water resource management program design, development, and implementation. My main focus over the past three and a half years has been on creating and managing water loss control programs for the City of Sacramento. Developing two water loss control programs, one that reduces water loss on the customer side with the creation of the Leak Free Sacramento (LFS) program and one that reduces water loss within the City infrastructure with the District Metered Area (DMA) program. 
For my practicum I am analyzing the implementation of science-based policies within the Department of Utilities focusing on these two pilot projects.  I am writing an analytical report documenting the "Lessons Learned" from each and how stakeholder engagement plays a part in program development. It is my hope that this report will not only analyze these programs but will also assist the City in effectively implementing future pilot programs. This project serves as a culmination of my efforts in water resource management and will provide me with the technical and analytical skills necessary to further my career in the environmental field.   
See Jessica's practicum deliverable here.
---
Practicum: Madison Jarvis at the California Air Resources Board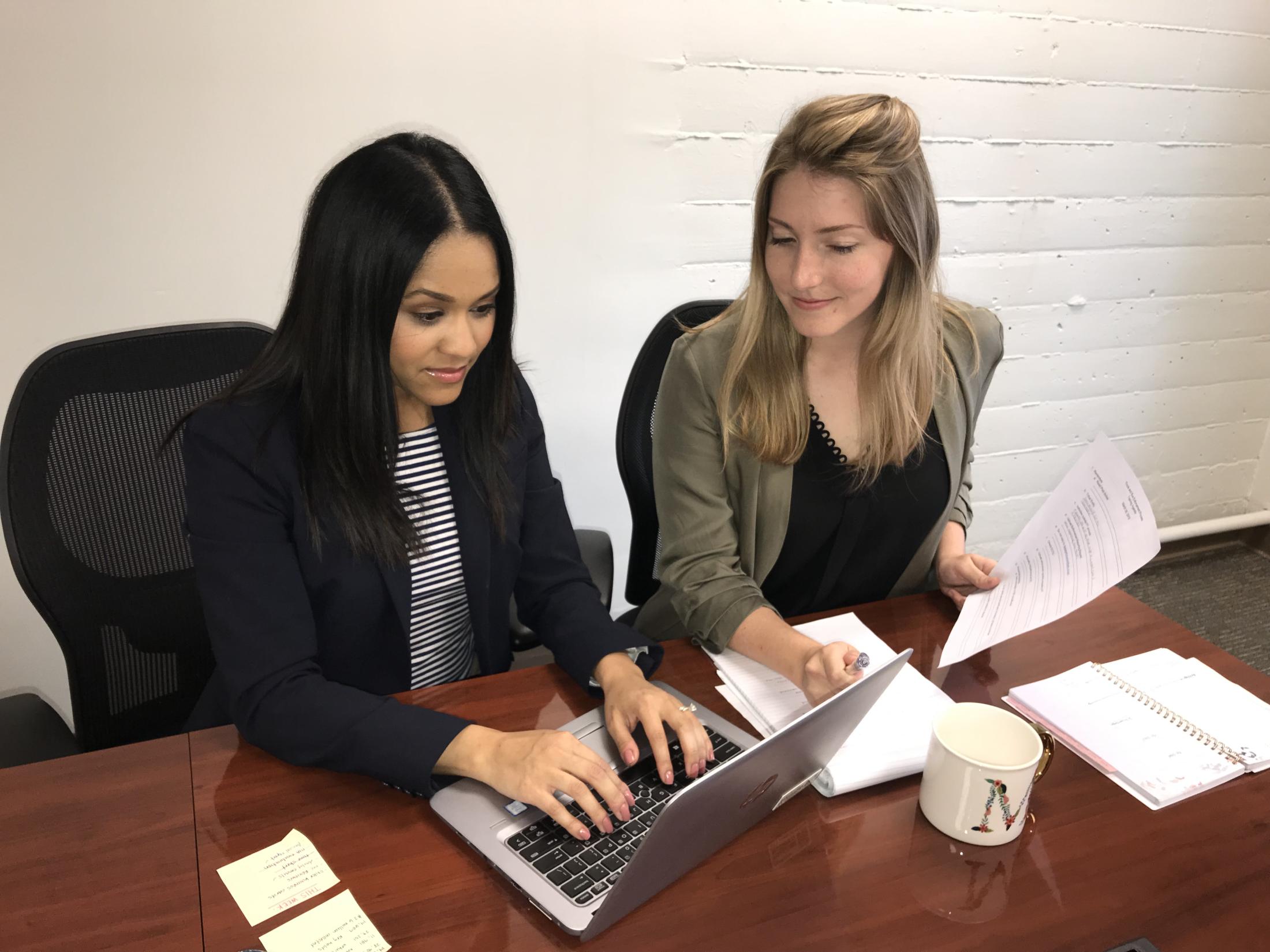 Madison Jarvis (March 2019): I recently started working as an Air Resources Technician with the California Air Resources Board's (CARB) Enforcement Division. In this position, I assist staff in identifying and addressing non-compliant vehicles in accordance with the California Truck and Bus Regulation. I spend a lot of time shadowing and assisting Air Pollution Specialists and learning about how air quality regulations are implemented and enforced. For my practicum, I will ultimately write a report on the efficacy and efficiency of our branch's enforcement process, including the number of vehicles addressed through this process and suggestions on how to improve or streamline this process. This information will likely supplement our branch's report at CARB's annual board meeting. 
It's really exciting being part of an agency that I've learned so much about in our program's classes, and having that background knowledge has definitely provided me with an advantage in this position. I'm hopeful that my experience at CARB, as well as having a master's degree in Environmental Policy and Management will allow me to move up in this agency, and take on bigger, and more influential roles.
View Madison's deliverable here. Madison's contributions to the report are highlighted in yellow.
---
Internship: Bilegt Baatar at the Sacramento County Planning and Environmental Review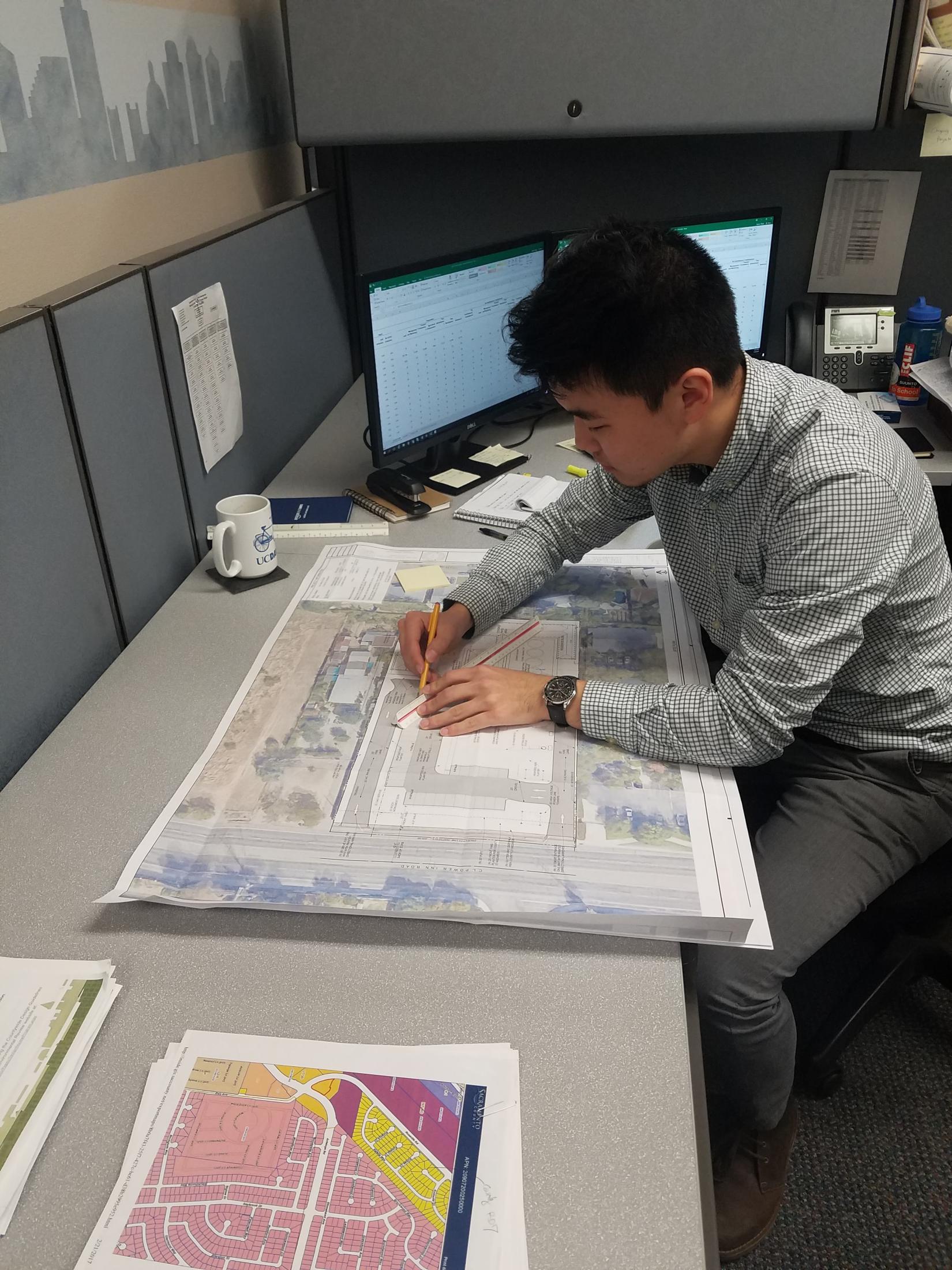 Bilegt Baatar (January 2019): I work as a graduate intern for Sacramento County Planning and Environmental Review. Planning is such a diverse field that has given me hands-on experience in communicating with the public, researching policies, conducting environmental review, and applying local ordinances to development projects. Some of the most satisfying moments of the internship are when I'm able to apply concepts from the classroom directly into my work and vice-versa. For example, the skills exercises facilitated by Mark Schwartz in ENV200A helped frame my thinking on how to improve my argument structure. These practiced skills culminated in a project to improve on the County's approach to approval of alcohol licenses in over-concentrated areas. My policy recommendations and research are expected to be heard by the Board of Supervisors sometime in February of this year. On the flip side, the time I've spent analyzing and applying state statutes and local ordinances in my internship have made me comfortable with the same kind of thinking necessary for Tracy Winsor's course, ENV201. 

A majority of my day-to-day work revolves around analyzing a developer's proposal with requirements in the Zoning Code, County Code, and General Plan. This could be something as simple as "can I build this bathroom?" to "I want a Buddhist temple." In either case, a planner's main job is to have a frame of mind that is rooted in foresight, fairness, and public good. It is sometimes daunting to realize that my decisions have real-world consequences to developers and to the community at large. But in all honesty, it's that responsibility that keeps me driven and looking forward to going to the office.
---
Internship: Sarah Farnsworth at the Sacramento Area Council of Governments (SACOG)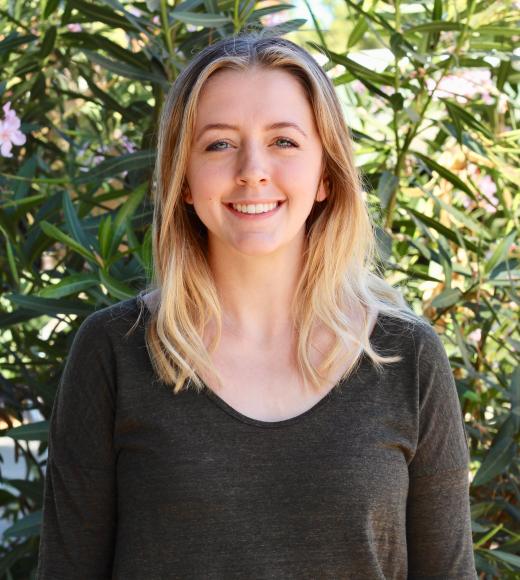 Sarah Farnsworth (January 2019): I am the Intelligent Transportation Systems Intern at Sacramento Area Council of Governments (SACOG) in Downtown Sacramento. While the position's roles change year-to-year, my primary responsibility is to be the acting project manager of the STARNET/511 traffic information network; it's mission is to improve traffic flow and reduce vehicle emissions in the Sacramento region by coordinating intelligent, real-time transportation data to make travel easier for all users, from commuters to emergency responders. Day-to-day, I am the primary point of contact for the developers and stakeholders, which include the cities encompassed in SACOG's six-county region as well as transportation agencies such as CalTrans and CHP. I am working with these contacts to successfully incorporate real-time traffic and transit information and updates into the system from as many partners in the region as possible in order to achieve the program's goals. 
---
Practicum: Tiffany Hoang at the UC Davis Policy Institute for Energy, Environment and the Economy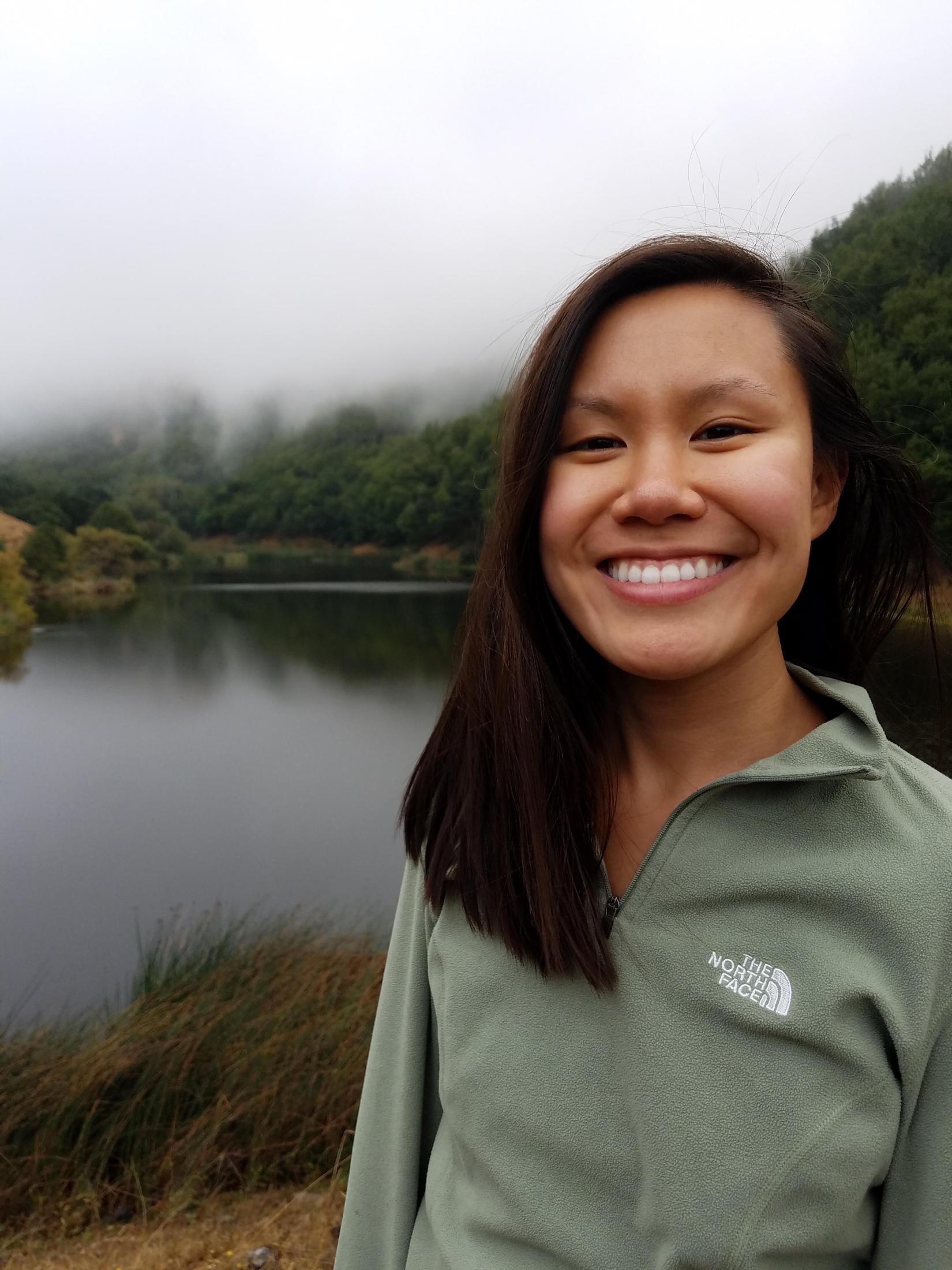 Tiffany Hoang (January 2019): I was fortunate to work amongst brilliant researchers and policy analysts from the UC Davis Policy Institute for Energy, Environment, and the Economy. There, I focused on research aimed towards understanding the impacts from three exciting transportation revolutions - vehicle sharing, electrification, and automation (i.e. self-driving vehicles).
I co-authored "Federal, State, and Local Governance of Automated Vehicles" and "The Road to Successful Governance of Automated Vehicles" with Executive Director of the Policy Institute, Austin Brown, and Greg Rodriguez of Counsel, Best, Best & Krieger. The issue paper and accompanying policy brief were highlighted in Forbes Magazine and discuss the existing policy landscape for automated vehicles (AVs), identify key governance challenges (e.g. conflicts of authority, application of liability and insurance frameworks, safety components, privacy concerns), and provide policy options to guide local, state, and federal governance of AVs. The literature review process for this paper exposed me to AV legislation going through Congress and AV policy development and implementation led by proactive states and local governments. The iterative process of writing and revising papers with multiple collaborators and attendance to policy brainstorming meetings has made me more confident in my ability to communicate key research findings to a policy audience.
---
Practicum: Aston Tennefoss at the Office of the Delta Watermaster, State Water Resources Control Board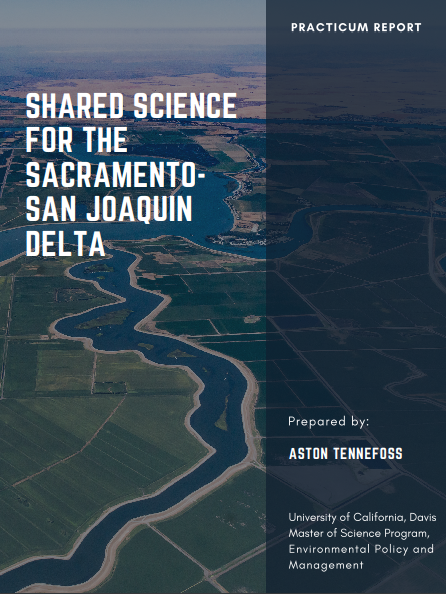 Aston Tennefoss (September 2018): The project increased my understanding of current political and structural dynamics in water management and policy. The process of writing and revising the white paper focused my ability to discern what is relevant to a policy audience. As I developed recommendations, the draft and review process with Michael George and Dr. Lund produced a more pertinent and accessible document. Through my participation in meetings and workshops, my network has grown, and I have recently been asked to review a section of the 2018 Draft Delta Science Plan Update. The interview process exposed me to stakeholders from local, state, and federal government, as well as private organizations and NGOs. I have a better sense of the sort of work I would like to do in the future and which organizations would best position me to achieve my longer-term goals. Finally, my interview with the Department of Finance and subsequent analysis of various documents, like the State Budget and Manual of Funds, improved my understanding of the State budgeting process. I am excited to continue following Delta science advances and water management decisions. My research is relevant to a number of ongoing initiatives, especially at the Delta Stewardship Council and I hope to be part of future conversations.  View Aston's report here.
---
Practicum: Emily Zakowski at the Environmental Defense Fund (EDF)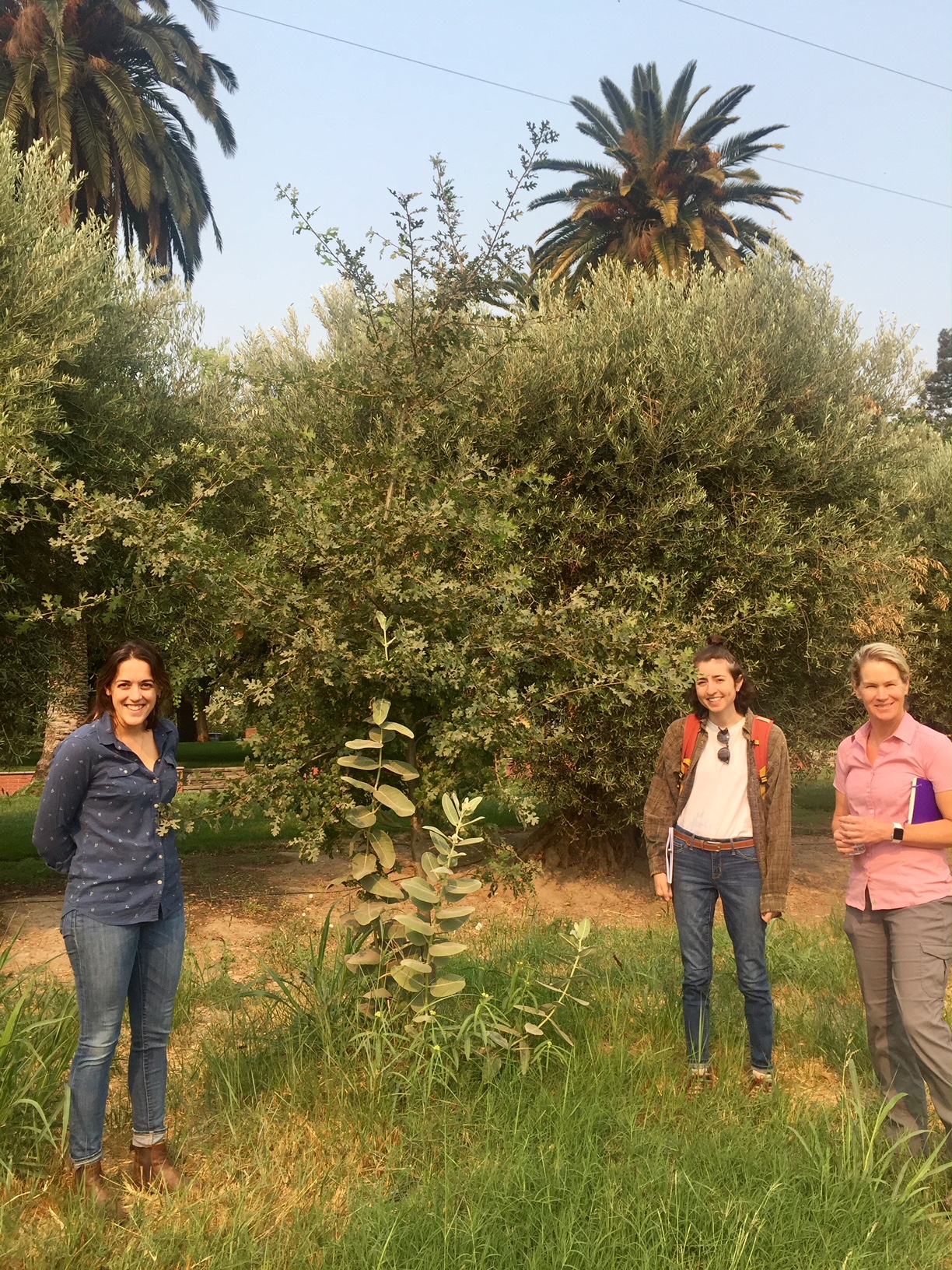 Emily Zakowski (October 2018): As an intern with Environmental Defense Fund's (EDF) Habitat Team, I contribute to conservation efforts aimed at the declining western monarch butterfly population. Findings from this year's Xerces Society Thanksgiving population count reveal that western populations have dropped 86 percent since last year. Our work at EDF centers on collaboration with farmers and ranchers to restore critical patches of monarch habitat, especially in California's Central Valley.  
Alongside EDF staff, I am planning a meeting to bring scientists and farmers together. At this meeting, we will assess the state of the science and develop a strategy to help save the species immediately - before it's too late. 
I also co-authored "Monarch Butterfly Habitat Creation in California: A Technical Field Guide" with ecologist Dr. Jaymee Marty (to be published in early 2019).  The guide outlines how to establish and enhance habitat for monarchs on farms, ranches, and other working lands. It summarizes the best available scientific and practical information on restoring California native milkweed species and other native plant species which are vital nectar sources to monarch butterflies.  
See Emily's blog post about her work on the EDF website here.